#corsair #corsairone – If you are a PC gamer, there is a good chance that you enjoy building your own computers. After all, building them yourself guarantees that you select every single component that goes inside. Not only can you pick the parts from a performance perspective, but aesthetically too — for some folks, looks matter.
While a self-built gaming rig can be rewarding, it can be an expensive headache too. If something goes wrong, you have to reach out to each component manufacturer for support and warranty purposes. Alternatively, when you buy a pre-built machine, you have a single company to contact. Today, PC component maker CORSAIR announces an all-new gaming computer series — its first ever. Simply called "ONE," it is designed to be both svelte and powerful. The hardcore mini PC is rather pricey, however, as it starts at $1,800 — there are several "PRO" variants which will increase the cost dramatically. Unfortunately for AMD fans, this is an Intel/NVIDIA-only affair.
"CORSAIR ONE comes ready to deliver fantastic PC, 3D and VR experiences thanks to a liquid-cooled Intel Core i7 7700 CPU and air-cooled GeForce GTX 1070 8GB, while CORSAIR ONE PRO takes performance to the next level with dual liquid-cooling for both an Intel Core i7 7700K and GeForce GTX 1080 8GB. The rest of CORSAIR ONE's internals are a list of must-haves for a modern PC: fast SSD storage in either 240GB, 480GB or 960GB options, roomy 1TB or 2TB HDD, an 80PLUS Gold SFX PSU, Z270 motherboard with USB 3.1 type C and 16GB of trusted CORSAIR VENGEANCE LPX 2,400MHz DDR4," says CORSAIR.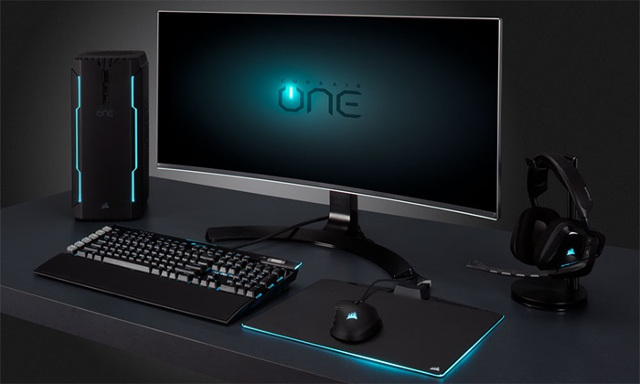 The famed PC component maker further says, "From its milled aluminum exterior to subtle blue integrated lighting, CORSAIR ONE changes what PC enthusiasts should expect from a pre-built gaming PC. Every part has been specifically designed and selected to fit the high-end hardware and cooling of a full-size desktop PC into an incredibly compact system that's only 12L in volume. Measuring just 200mm x 176mm x 380mm (7.87in x 6.92in x 14.96in), CORSAIR ONE fits perfectly onto a gaming desktop, performance workstation or Premium VR showcase, delivering high-end performance with a minimal footprint."
CORSAIR shares the specifications and pricing below. There are four configurations, with the most powerful two being exclusive to the company's online store. The top model is listed as "coming soon," so it is not clear when it will be made available, but the other three can be had immediately.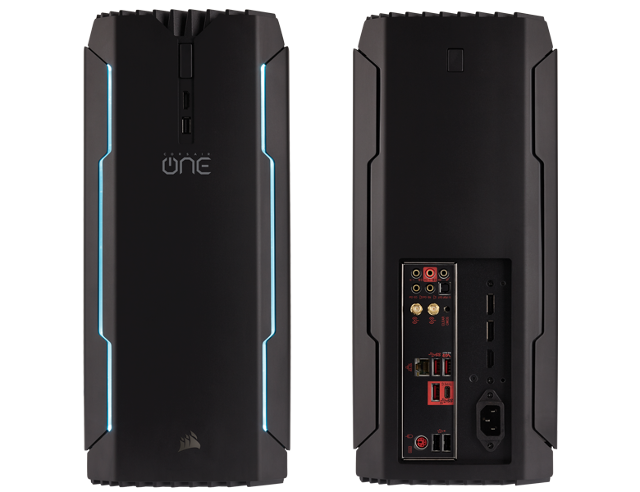 Will you be purchasing a CORSAIR ONE machine? If yes, which model? Check out the specs below and tell me in the comments.
CORSAIR ONE:
Processor: Intel Core i7 7700, 4.2GHz Max Turbo Frequency, Liquid-Cooled
Graphics Card: NVIDIA GEFORCE GTX 1070 8GB, Boost Clock 1,721MHz, Base Clock 1,531MHz, Air Cooled
Memory: 16GB CORSAIR VENGEANCE LPX 2,400MHz
Storage: CORSAIR FORCE LE 240GB SSD, 1TB HDD
Motherboard: Custom MSI Z270 Mini-ITX
PSU: CORSAIR SF400 80PLUS GOLD SFX
Chassis: Black, Aluminum, VR-Ready
OS: Windows 10 Home and future Microsoft updates MSRP: $1,799.99 Exc. TAX
CORSAIR ONE PRO:
Processor: Intel Core i7 7700K, 4.5GHz Max Turbo Frequency, Liquid-Cooled
Graphics Card: NVIDIA GEFORCE GTX 1080 8GB, Boost Clock 1,771 MHz, Base Clock 1,632MHz, Liquid-Cooled
Memory: 16GB CORSAIR VENGEANCE LPX 2,400MHz
Storage: CORSAIR FORCE LE 480GB SSD, 1TB HDD
Motherboard: Custom MSI Z270 Mini-ITX
PSU: CORSAIR SF400 80PLUS GOLD SFX
Chassis: Black, Aluminum, VR-Ready
OS: Windows 10 Home and future Microsoft updates
MSRP: $2,199.99 Exc. TAX
CORSAIR ONE PRO (CORSAIR WEBSTORE EXCLUSIVE):
Processor: Intel Core i7 7700K Liquid-Cooled, 4.5GHz Max Turbo Frequency
Graphics Card: NVIDIA GEFORCE GTX 1080 8GB Liquid-Cooled, Boost Clock 1,771 MHz, Base Clock 1,632MHz
Memory: 16GB CORSAIR VENGEANCE LPX 2,400MHz
Storage: CORSAIR FORCE LE 960GB SSD
Motherboard: Custom MSI Z270 Mini-ITX PSU: CORSAIR SF400 80PLUS GOLD SFX
OS: Windows 10 Home and future Microsoft updates
Chassis: Black, Aluminum, VR-Ready
MSRP: $2,299.99 Exc. TAX
COMING SOON: CORSAIR ONE PRO GTX 1080 Ti (CORSAIR WEBSTORE EXCLUSIVE):
Processor: Intel Core i7 7700K, 4.5GHz Max Turbo Frequency, Liquid-Cooled
Graphics Card: NVIDIA GEFORCE GTX 1080 Ti 11GB, Liquid-Cooled
Memory: 16GB CORSAIR VENGEANCE LPX 2,400MHz
Storage: CORSAIR FORCE LE 960GB SSD
Motherboard: Custom MSI Z270 Mini-ITX
PSU: CORSAIR SF500 80PLUS GOLD SFX
Chassis: Black, Aluminum, VR-Ready
OS: Windows 10 Home
MSRP: $ 2,599.99 Exc. TAX
Source : betanews